When buying a DJ controller, you need to think about what you are going to be using it for. This will help decide your price point. Upon just the usage, you will want to consider, features, design, build quality and outputs.
The Mixtrack Pro 2 in a nut shell:
Its a good DJ Controller for the price, it is actually one of the best dj controllers under 200, it's got some nice appeal, jog wheels are great, its user friendly, and now it works better with the software. The added features of a sampler and drum pads are a nice addition.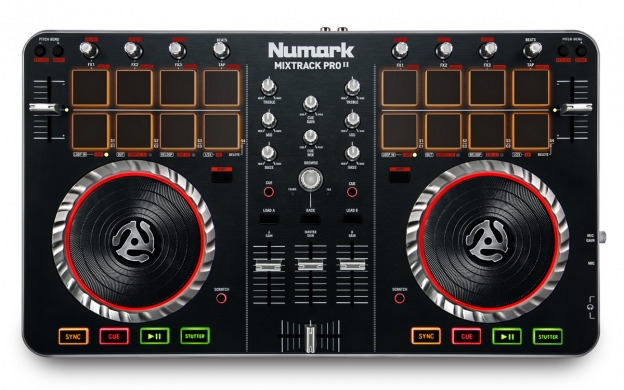 Click here to see more reviews on the mixtrack pro II
The Good: New drum pads, with different fuctions, 2 headphone outputs, light and portable, cleaner design, good sound quality, standard MIDI over USB, able to use with Traktor Pro 2 and Virtual DJ.
The Ugly: No booth outputs, no EQ
The Rundown: Great beginner/starter DJ controller. Has great functions that will be fun to use and learn for the user. Price is great for what you get.
Design and Build
The Mixtrack Pro II got an upgrade in design, it now has a more clean design, with backlit drum pads. It caters to the feature sets of Serato DJ intro. Mappings are available for other software.
The jog wheels are designed better, they take up less room on the face, and the mic and headphone connects are on the right side.
It is a light and portable unit weighting in at 4.7 pounds, but is a bit wider than other controllers.
Despite being marketed as a "PRO" unit, the controller isn't in the high professional-grade column. Its made out of plastic and feels cheaper than an actual high end unit, which is expected.
It makes up for that with the drum pads and jog wheels. The pads are pro grade and feel great.  They are responsive, you can do fast drumming on them. Just dont press too light on them, they may not pick it up. The jogs are on point, even though the sit lower and more flush, they grip really well.
Some other points: labels on the face show functions for all buttons.
The Mixer:
Made up of a non replaceable 45mm crossfader, 2 channel strips, with 45mm volume faders, 3 band EG knobs with center detent and headphone cue buttons, master gain 45 mm fader gives you software master output controller but not a hardwired analog master out for the soundcard, browings push encoder, 2 deck load buttons and back button, and a cue mix and cue gain knobs.
The Platters:
Made up of a transport section with 4 plastic buttons for sync, cue, play/pause, and stutter, touch sensitive wheels which allow you to scratch or pitch bend, 45 mm pitch faders with pitch bend buttons, 8 drum pads per side, 4 rotary encoders and a shift button
Back Panel:
Includes a master out, USB 2.0 port for audio and MIDI transfer and bus power
Side:
Includes 1/4″ mic input and gain, and 2 headphone jacks